Holidays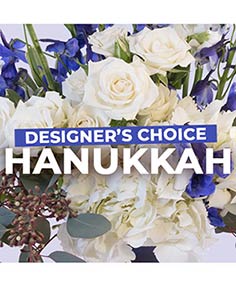 Eight perfect florals for Your Hanukkah Celebration.
A Hanukkah flower bouquet can add that special touch you are looking for in your Hanukkah decor. They also make a perfect hostess gift for your Festival of Lights host. With Hanukkah colors of blue and white, flowers can mean much more than what the eye sees.
1. Lilies
A white lily symbolizes purity and holiness and is often associated as the flower of Hanukkah.
2. Delphiniums
Symbolizing cheerfulness and goodwill, delphiniums are harmonious with the rest of your Hanukkah arrangements.
3. Blue Hydrangeas
The hydrangeas are a charming addition to a Hanukkah display representing gratitude, grace, and beauty.
4. Roses
White roses symbolize loyalty, purity, and innocence. They add a classical touch to any arrangement and provide a subtle dash of beauty to any room.
5. Alstroemeria
The alstroemeria is a symbol of grace and beauty and can be used to fill any vase. It looks great alone or as part of an arrangement.
6. Tulips
Elegant additions to a festive arrangement, white tulips can mean thank you in addition to perfect love.
7. Iris
Iris represent faith, hope, courage, wisdom, and admiration.
8. Carnations
white carnations are the perfect addition to any Hanukkah flower arrangement by filling in and adding volume to complete your festive decoration.
Order your Hanukkah flowers today
You can order online, by phone, or in person, whatever you are comfortable with. Our hours may vary so, please call us for our times. We offer both delivery and in-store pickup. Flower Lady is here to assist you with any questions you have!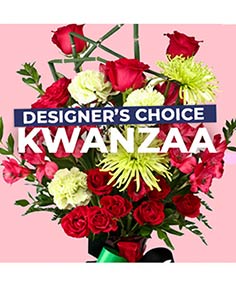 Add the perfect touch to your Karamu table with a festive Kwanzaa centerpiece. Floral arrangements with green, red, and black flowers with touches of white complete with fresh fruit, will elevate any tablescape. Call and ask about our delivery hours and we will work to have a florist deliver them to you, no matter the location.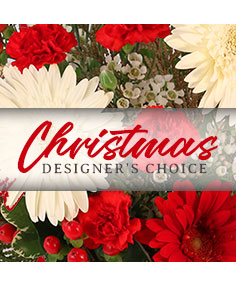 It's that time of year when bells are jingling, snow is falling, and the carolers are going door to door singing the songs of the season. That's right; it's Christmas time! Christmas is a joyous time of year for gift-giving, festivities and parties, singing Christmas carols, eating family Christmas dinners, playing in the snow, drinking hot chocolate... the list goes on and on! If you're like Flower Lady, you can't fathom how anybody couldn't love the Christmas season. As the season of gift-giving, it's also the perfect time to order flowers, and Flower Lady has everything you could want and more. Featuring a variety of different floral arrangements in the colors of red, green, and white that come in a variety of containers such as baskets, red vases, and golden vases, there are so many ways to spread the holiday cheer with Flower Lady. In addition to traditional floral arrangements, there's also a large selection of centerpieces and wreathes to choose from to help decorate the home and get the dinner table ready for the annual family Christmas dinner!